Welcome to my blog, Live InvincAble. Here I plan to offer my musings on living invincibly, embracing life, building resilience, working towards contentment, and facing down adversity with positivity, courage and determination.
EVERY person has their challenges, and those challenges are such a subjective thing, but life is definitely what you make it. So, in order to live a happier life, embrace your challenges, adapt and focus on what life could be like when you #LiveInvincAble!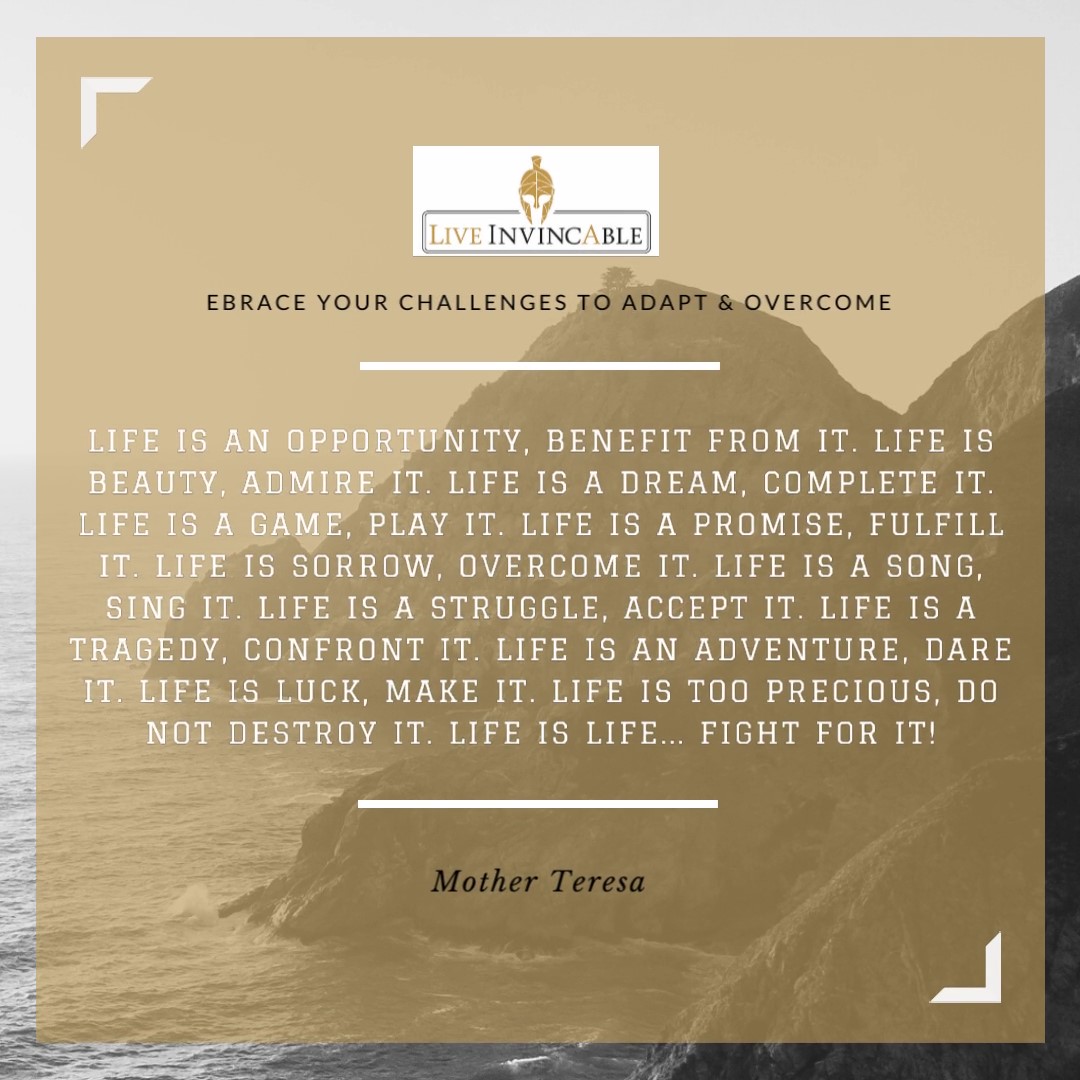 What Mother Teresa Taught Me About Living InvincAble
This month would have marked the 110th birthday of Mother Teresa.
The world lost such wisdom after her passing in 1997. Yet her teachings live on.
This quote says it all to me. Especially the line "life is life, fight for it".
Life is not easy but that does not mean there is not beauty in it, nor happiness to be found.
Life is full of struggles but that does not mean you cannot overcome those challenges in order to find fulfilment.
Life is full of obstacles but that does not mean you cannot discover strength in traversing those obstacles.
In my experience, building resilience and the ability to continue fighting, despite the toughest challenges, is one of the hardest skills to learn. Your ability to see past negative experiences, embrace the positive elements such experiences bring, and look beyond the current or past so that you may envision a bright future, will dictate how your future plays out.
The question is though, when in the midst of a crisis, how do you look beyond it and move past the negative emotions that experience may be conjuring up?
It is crucial to understand that everything in life is temporary and better times can come.
Know that adversity, whilst awful to go through, will teach you things about yourself and help you build many positive attributes if you allow it.
Do not focus on the past or what was, it will only leave you feeling stuck, instead look towards future goals and what you would like from life.
Do not waste precious energy worrying about things you do not have the power to change, this will not change your situation and will leave you feeling emotionally drained. Instead adapt to new circumstances and make small changes so that you can take baby steps towards a brighter future, even if that was not the future you had originally imagined.
Perception is everything. Change your perception and things will become easier.
It doesn't matter what your challenges are (we all have them), it is true that life is quite literally what you make it.
As Mother Teresa said "Life is opportunity, benefit from it… Life is a dream, realise it… Life is an adventure, dare it…".
If you are interested in hearing more about how to Live InvincAble: Embrace Your Challenges to Adapt & Overcome, please visit www.tashaprice.com/liveinvincable. Here you can get info on my upcoming live workshops (face to face on the Gold Coast and live streamed online), purchase workbooks and sign up to my newsletter.
I'd love to see you there!
Want to Live InvincAble?
Sign up for one of our live workshops!